The Faculty of Engineering includes Liberal Arts and Sciences and six departments: Mechanical Systems Engineering, Intelligent Systems Design Engineering, Electrical and Computer Engineering, Environmental and Civil Engineering, Biotechnology, and Pharmaceutical Engineering.

Faculty members conduct research across a wide variety of fields, maintaining close relations among the six departments, and with outside organizations.
Liberal Arts and Sciences
Liberal Arts and Sciences consist of five research areas: Humanities, Social Science, Sciences, Foreign Languages, and Health Science.
Subjects
Japanese literature, Japanese expression, Art history and theory of arts, Philosophy, History of science, Economics, Sociology, Psychology, International relations, Law, English, German, Chinese, Mathematics, Physics, Chemistry, Biology, Theory of health and exercise sciences, First year seminar.
1 Humanities
Japanese classical literature, Japanese art history
2 Social Science
Sociology of education, Historical sociology, Experimental psychology, Cognitive science, Economic theory and thought, Macroeconomics
3 Sciences
Solid state physics, Magnetism, Applied mathematics, Mathematical physics, Organic photochemistry, Bioorganic chemistry
4 Foreign Languages
Social interaction and 'cognition,' Modern German literature, Linguistics (syntax, morphology, speech science), Chinese, English, German.
5 Health Science
Environmental and exercise physiology
Department of Mechanical Systems Engineering
The Department of Mechanical Systems Engineering offers four courses of study: Thermal and Fluid Engineering, Solid Mechanics, Design and Production Engineering, Materials Design and Processing. Each course provides students with basic engineering classes and advanced engineering classes by method of lectures, practical exercises, and experiments.
1 Thermal and Fluid Engineering
Fluid dynamics
Fluid engineering
Fluid machinery
Thermodynamics
Energy science
Energy conversion
Heat transfer
Thermo-fluid dynamics
Cooling design
Energy transfer
Combustion
2 Solid Mechanics
Materials and Mechanics
Fracture mechanics
Biomechanics
Finite element analysis (FEA)
Damage prediction for fatigue or creep
Mechanical reliability
Tribology
Wear
3 Design and Production Engineering
Dynamics of machinery
Automotive engineering
Life cycle assessment
Computer aided design and manufacturing
(CAD/CAM)
4 Materials Design and Processing
Materials science and technology
Engineering materials
Mechanical properties of materials
Advanced polymer and composite materials
Forming process of materials
Powder metallurgy of advanced materials
Environment conscious materials
Department of Intelligent Systems Design Engineering
Intelligent Systems Design Engineering is the interdisciplinary field of scientific and technological research combining advanced electronics, informatics and mechanics for the 21st century. Our department focuses on intelligent robotics, human interface, biomedical engineering, micro/nano-technology and advanced electronic materials. Human development through education in our department fosters highly specialized researchers and engineers. Our course of study integrates the following subjects for in-depth knowledge of those fields.
1 Intelligent Systems Engineering
Mechatronics and robotics
Biomechanics
Control engineering
Design engineering
Mechanisms
Dynamics of machinery
2 Intelligent Interface Engineering
Human interface engineering
Digital signal processing
Electrical control engineering
Computer engineering
Brain information processing
Analog and digital circuits
3 Micro-/Nano-Systems Engineering
Micro/nano-machining
Instrumentation engineering
Materials processing
Kinematics of mechanisms
Thermodynamics and fluiddynamics
Biomeasurement
4 Electronic Nano-Device Engineering
Advanced electronic materials
Optical electronics
Sensor/actuator engineering
Basic electromagnetic theory
Quantum mechanics
Basic nano-analysis
Department of Electrical and Computer Engineering
Working towards the achievement of "advanced human-friendly electrical and information systems," we are developing highly talented engineers and researchers who can flexibly manage diverse and rapid social changes. For this purpose, we offer basic and professional education in the field of electrical and computer engineering.
1 Fundamental Information Engineering
Algorithms that efficiently find solutions to difficult problems
Effective and efficient management and operation of electrical and information systems
Theory to enhance the reliability and security of electrical and information systems
2 Information Systems Engineering
Processing of enormous data gathered from multiple sensors, terminals, devices, etc.
Analysis of information obtained on humans, things, and surrounding environments
Development of systems that support people and their lives
3 Integrated and Functional Device Engineering
High performance electrical devices that incorporate versatile functions
Semiconductor devices such as integrated circuits
Sensor devices
Power electronics devices that efficiently convert and utilize energy
4 Electronic and Communication Systems Engineering
Secure, reliable and high quality communication networks
Radio wave technologies to develop advanced wireless communication networks
System control technologies
Fundamentals of signal transmissions and applications

Department of Environmental and Civil Engineering
The department consists of two related courses: "Environmental Engineering" and "Civil Engineering." The former focuses on the creation of a resource recycling society and the protection of a clean, safe environment for sustainable development. The latter course focuses on effective natural disaster management and efficient infrastructure and energy management to construct safe, sustainable, and resilient societies. Our faculty and staff are dedicated to educating our students to ensure that they have the necessary creative and practical skills to solve various environmental issues and create a safe and sustainable future.
1 Environmental Engineering
Hydrobiology
Atmospheric Chemistry and Physics
Environmental Water Quality
Environmental Evaluation
Water Treatment Engineering
Environmental Remediation
Resource Recovery from Waste
Material Flow Analysis
2 Civil Engineering
Structural Engineering
Soil Mechanics
Hydraulics
Engineering Surveying and GIS
Concrete Engineering
Hydrology
River and Coastal Engineering
Disaster Mitigation and Management
3 Common Subjects (Shared topics)
Urban Planning and Land Use Management
Ecological Regional Planning
Environmental Risk
Environmental Policy and Management
Environmental Governance
Biotope
Soil Improvement Technology
Ecological Construction Materials
Department of Biotechnology
The Department of Biotechnology offers seven courses of study. The faculty is responsible for education of advanced subjects covering the following themes under each course of study.
1 Enzyme Chemistry
Microbiology; Biochemistry; Enzymology; Organic chemistry; Molecular biology; Molecular genetics; Gene engineering; Protein engineering; Improvement of enzyme functions based on its 3D structure; High-throughput screening of enzymes; Enzyme chip technology; Enzymatic synthesis of chiral intermediates; Biotransformation of synthetic chemicals.
2 Biocatalysis and Bioprocessing
Biocatalysis; Enzyme engineering; Molecular genetics; Protein engineering; Biological chemistry; Applied microbiology.
3 Microbial Engineering
Bioprospecting of underexploited marine or terrestrial species for new bioactive molecules; structure elucidation; evaluation of bioactivity; biosynthesis.
4 Bioorganic Chemistry
Chemistry and Functionality of Polyglycerols; Chemistry of Woody Biomass and Lignin; Development of Novel Synthetic Methodology; Total Synthesis of Biologically Active Natural Products.
5 Food Science and Technology
Molecular biochemistry of functional foods; Metabolism of biofactors including physiological and dietary compounds; Enzyme chemistry of xenobiotic metabolizing enzymes; Molecular genetics.
6 Plant and Cell Engineering
Biochemistry; Enzymology; Bioorganic Chemistry; Plant cell and tissue culture; Genetic engineering; Molecular breeding; Natural product biosynthesis; Secondary metabolism and its regulation; Biomass utilization.
7 Applied Bioinformatics
Microbioinformatics; Genome engineering; Genome evolution; Cell engineering; Cell evolution; Systems biology.

Department of Pharmaceutical Engineering
Pharmaceutical engineering is a developing field focused on the discovery and manufacture of drug medicine. It is expected to complement other scientific fields already engaged in drug development, and assist in solving contemporary problems related to medicine and healthcare by producing quality products from the perspective of engineering. The aim of the faculty is to turn out highly qualified engineers who are well-grounded in science and technology to work in the pharmaceutical industry with creativity and capability. We train individuals who can create and develop new pharmaceutical technology and support future industry based on the traditions of Toyama's medicine.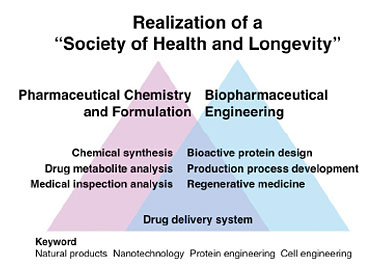 1 Pharmaceutical Chemistry and Formulation
Education and research in this course focus on small drug development, which involves how small drugs are chemically synthesized in simple and effective processes, how drug formulations are designed to maximize their efficacy in the body, and how final products are inspected and packaged with cutting-edge technologies.
Key words: organic chemistry, process chemistry, fine chemistry, analytical chemistry, advanced lithography, functional materials, chemical engineering, powder engineering, drug delivery system.
2 Biopharmaceutical Engineering
This course fosters qualified persons with the knowledge and skills needed to apply engineering principles to the pharmaceutical industry by use of biological systems including materials from molecules to a cell. These systems are based on recent advancements in scientific fields described by the following key words.
Key words: biochemistry, genetic engineering, drug metabolism, cell engineering, protein chemistry, protein engineering, bioinformatics, biophysics, protein design, structure-based drug design, antibody engineering, drug discovery, pharmacology, regenerative medicine.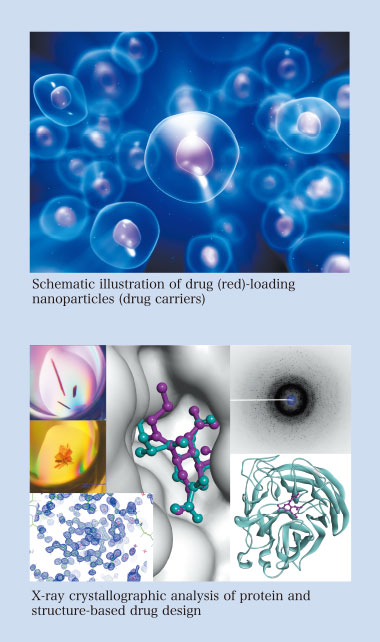 < Back to main page